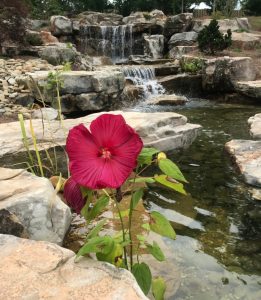 Do you want to have a new koi fish pond for your home or business? We have a range of different pond designs to choose from, and we will give you all the help you need to create the perfect koi pond design for you. Your home or business will look so much better with your new koi fish pond, and you will create an environment that is more relaxing and attracts frogs and other types of interesting wildlife.
We have been in the pond design business for over 27 years, so we know how to design ponds well. We have a team of creative pond designers who will help you every step of the way to design the best pond for you and your Atlanta home or business.
Get in touch with us now if you have any questions to do with koi pond design.
Koi Pond Installation
Koi Pond installation is a monumental task which can take days. (And if you make one simple error it can take even longer.) While many people love to have a pond in their business or home, it's the installation phase that gives you the biggest headaches. So why not let us install your pond for you? We will do the whole lot from beginning to end, so you don't have to do anything at all.
Our koi pond installation team are experienced when it comes to installing ponds, and they will work on your business or home with professionalism and care. Indeed, they will have your pond installed and looking great in no time at all.
So when you do get a new koi fish pond for your business or home, take advantage of our koi pond installation service and reduce your headaches.
Koi Pond Maintenance & Pond Supplies
We also offer you koi pond maintenance and pond supplies as part of our services.
Koi Pond Maintenance
We will help you when it comes to pond maintenance tasks of all types. Now your pond will function with efficiency and your fish will live longer. We can help you with such tasks as pond cleaning, water changing, water testing, equipment maintenance, and more. Not only can we perform these tasks for you, we can also give you the best advice when it comes to performing these tasks yourself and maintaining your pond.
Koi Pond Supplies
We have a range of pond supplies for you, including both equipment and aesthetic pond accessories. (We have a great range of pond filters.) Now your pond can function properly and you can add a personal touch to your pond to make it unique. All of our pond supplies come from reputable suppliers and all are made of high quality materials built to function and last for a long time to come.
Contact us today for help when it comes to koi pond design and koi fish pond installation.